NEWS
Jay "Has To Choose" Between Whitney and His Band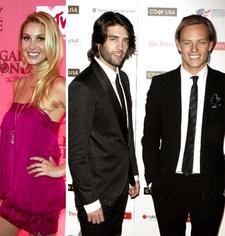 Whitney Port's on-again-off-again boyfriend will have to choose between her and his band, says his friend.
Jay Lyons moved from Australia to New York to make it with surfer pop duo Tamarama.
But he fell for The City star and ended up starring in the first season of The Hills spin-off as well.
And although the couple split at the end of season one -- and Whitney has been getting -- Jay is trying to win her back.
Article continues below advertisement
But now the other half of Tamarama, Nicolas 'Pottsy' Potts, has told OK! that the band is suffering because of the show -- and that he wants Jay to drop out of season two.
And Pottsy's girlfriend, model Jessica Hart, tells us: "He's going to have to choose."
"Me and Jay have been discussing it," said Pottsy at a party to launch the Vamp by Fetty jewelry collection from rocker Justin Tranter, "and he's inclined to do another season, but I'm not at all."
"We're about to record an album, we're about to launch into the US, and I don't think we need the show anymore," he added at the party at the Rock and Roll Hall of Fame Annex.
"All it's going to do is kill our credibility."
And although Pottsy says that he knows the band is Jay's priority, he adds, "I think he wants to do the show on a personal level, for various reason, but for the good of the band, I don't think its the right decision."
But she added, "He's going to have to choose."
So what's it to be, Jay?
By Oliver Coleman