NEWS
Jay Leno's Lofty Line-Up for Return to 'Tonight Show' Spot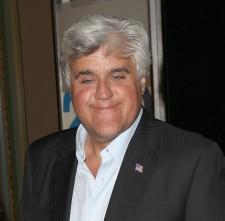 Jay Leno is gearing up for his return to late night TV, and he has the star-studded line up to prove it! Jay has some heavy hitting guests scheduled for his upcoming episodes of The Tonight Show — which he won back in a NBC late night showdown with fellow late night co-host Conan O'Brien. So what celebs made the list for Jay's big return?
Here is the list of upcoming actors, Olympians, reality stars and musicians, via E! Online.
Article continues below advertisement
• March 1: Jamie Foxx, Olympic gold medal skier Lindsey Vonn, Brad Paisley
• March 2: Sarah Palin, Olympic gold medal snowboarder Shaun White
• March 3: Jaywalk All-Stars with cast of Jersey Shore, Chelsea Handler, Olympic gold medal speed skater Apolo Anton Ohno, Avril Lavigne
• March 4: Matthew McConaughey, Jason Reitman
• March 5: Morgan Freeman, Meredith Vieira
• March 8: Simon Cowell
• March 9: Christoph Waltz, animal expert Dave Salmoni, Joan Jett and the Blackhearts
• March 10: Kristen Stewart, Guy Fieri
• March 11: Dana Carvey, Kim Kardashian, Colbie Caillat
• March 12: Dakota Fanning, Judd Apatow
Looks like K-Stew made the list, but no Robert Pattinson (sigh). Fortunately, Robert will be guest starring on Jimmy Fallon's return show!
Do the celebs make you more excited for Jay's return?