NEWS
Jay Sean on Justin Bieber: He's Very Proud He's Going Out With Selena Gomez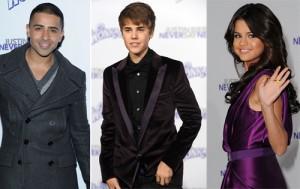 Jay Sean seems to know everyone in the music world. The hot singer not only just finished up a tour with Joe Jonas and collaborated with everyone from Nicki Minaj to Lil Wayne, but he also knows Justin Bieber! Jay spilled some info when he sat down and talked to OK! exclusively before his sold out NYC show last week.
OK! NEWS: JAY SEAN TALKS TOURING WITH JUSTIN BIEBER — "HE'S A GOOD LOOKING DUDE"
"I think every time I've seen Justin, he's always pretty much remained the same," Jay told OK! "He's always respectful and just a cool dude. There is always that danger of when you're so young in the game and exposed to so much, so soon, how is that going to change you? But he seems pretty grounded."
Article continues below advertisement
Justin is also involved in a very high profile relationship with actress-singer Selena Gomez.
Jay revealed, "I mean, you know, to be honest from what I've seen and heard, I think he's very proud of the fact that he's going out with Selena. I think he's happy with her.
"I think there's enough fans that love him so much that they just want to see him happy. That's the best thing about our fans, no matter what we do in our private life, there's always going to be a handful of them who might hate, but the rest are just like, Aw, yea he's so happy. We're so happy for him."
Does he have plans to write for The Biebs? Yes! But he says, "I haven't gotten a chance to play him any of the songs yet."
OK! GALLERY: CALLING ALL BELIEBERS! CHECK OUT OK!'S ULTIMATE JUSTIN BIEBER GALLERY!
Another person he has future plans for is Taylor Swift.
"I love Taylor. She's so awesome. I actually have a song that I want to play her as well. Next time I see her I need to play her a song."
He also only sees her doing great things in the future.
"I think she's just going onwards and upwards isn't she? She's America's little sweetheart."