NEWS
Jay Sean Talks Touring With Joe Jonas: "He's a Good Looking Dude"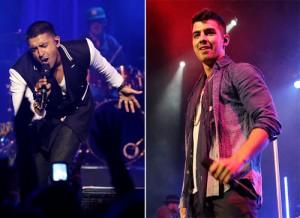 After appearing at Eden Lounge in DC after his concert with Joe Jonas, Jay Sean returned to NYC last night to perform a sold out show with Joe at NYC's Best Buy Theater. Before the concert, Jay took some time to speak to OK! exclusively about how the tour is going and his co-headliner Joe.
OK! GALLERY: JOE JONAS, JOJO & JAY SEAN JAZZ IT UP AT THE HOUSE OF BLUES
Joe, most recently linked with Sky Ferreira, is a known ladies man. What's Jay's opinion?
Article continues below advertisement
"He's a good looking dude, definitely he's a very nice guy," Jay explained.
"When you have the kind of Jonas Brothers fame, after awhile nothing really shocks you," he added. "You've done arenas, been around the world, 100,000s of screaming girls, I think with me as well, I've been doing this for nine years as a recording artist and a touring artist. I've been around the world and after awhile I do think you start, rather then letting it get to your head, you have to appreciate it and really respect the fact that you have those girls who scream for you like that."
Although last night was the last night of this tour, Jay told OK! he really had a great time.
"The tour has been amazing and fun, just good company. Just great times on the road, fun experience. There's nothing quite like being on tour, especially on the bus. Having so much fun with the boys in the band, you know?"
Despite being different artists on the surface, after talking Jay and Joe realized what a similar fan base they seemed to have.
Article continues below advertisement
"Joe and I talked about this because we saw each other at a number of radio events. I noticed a lot of his fans were holding up a lot of these big "I Love You Joe Marry Me" signs were also singing every single one of my songs and vice versa. So we were like, we wouldn't have thought it, but we share quite a common fan base. It kind of made sense, a majority of our fans are girls. 99% percent of them are girls and if we do this it will be a lot of fun."