NEWS
Jay Sean: "Justin Bieber's Wicked Man!"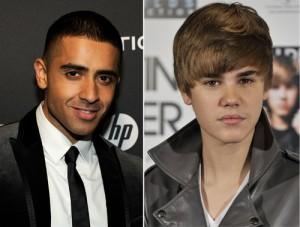 At yesterday's New Yorker's for Children Wrap 2 Rap event at The Ainsworth in NYC, special performer Jay Sean took a few minutes to talk to OK! about Justin Bieber, his new single and his dream collaborations.
OK! GALLERY: JUSTIN B. SCRIBBLES HIS JOHN H. FOR SPANISH FANS
Jay Sean told OK! he not only wants to duet with The Bieb, but he would love to write for him.
"Aww, Justin's wicked, man! I want to write a song for him, as well. I think there are a couple of songs that I got in mind for Justin. Next time I see him I'm going to play them for him," he told OK!. "But yeah, I'd work with Justin. I think he's a very talented kid and actually I'm not going to be able to call him 'kid' for much longer. He's doing his thing."
Article continues below advertisement
Is it hard to write songs for someone who is getting older in front of the public?
"No. No, I don't think so. I've been there myself so I can write from experience, what things he might be going through, things that maybe his fan base want to hear from him. Maybe a different side of him that might be slightly more grown up," Jay revealed to OK!. "I'm excited about it, doing something together."
Jay also has new music dropping in the first part of 2011.
"The next single is dropping in January," he said. "This is something like when I tell you club banger, it's a banger. I've always wanted to write the kind of song production wise and song wise that can be a smash in a club as it is on radio. I feel like this song is that kind of song."
Who would he also love to work with?
"Will.I.Am and Kanye West are two producers I'd like to work with," Jay Sean told OK!. "Jay-Z and Beyoncé. They are two of my favorite artists. I know I'm being a little greedy when I say I would love to have them both on one song. I don't think they've ever done that for anyone. So imagine that! Beyoncé and then Jay-Z doing a rap on it."
Jay Sean dreams big! You can see his video for his latest single "2012" below!