NEWS
Jay Wants Whitney Back!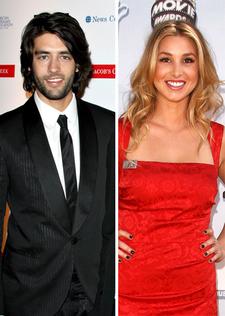 While The City star Whitney Port was spotted getting close with Lipstick Jungle hottie Robert Buckley last week at the Havaianas Spring Break event at the Shore Club, , her ex and reality show co-star Jay Lyons tells OK! he still wants her back!
"I think it was early for our relationship to end," Jay told OK! at the One Is Greater Than None Benefit Concert on March 20 in NYC, where his band Tamarama played to help raise money to sponsor rescue missions to save children in Ghana, Africa.
Article continues below advertisement
When asked what he thought of Whit's hookup with Robert, the Aussie rocker says he has no hard feelings.
"If that's what she's doing than great if she's happy," he says. "As long as she's happy."
Jay says he's been in contact with Whitney and plans to stay in NYC for the next few months to work on his new album – and hopefully his relationship.
"At the moment we're taking a bit of time for ourselves," says Jay, who recently returned from tour. "When she gets back to New York we'll see what happens. I definitely don't want to give up on it."
Filming for The City starts in a month, but will Whitney's ex-boyfriend Jay be on the show if they're not together? Jay's not so sure.
"Music is the main priority right now and always will be," he says. "If it works, it works; if it doesn't, it doesn't. We'll move on."
Stay tuned!
By Laura Lane