NEWS
Jay-Z Admits a Big Business Mistake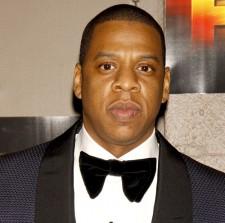 Jay-Z has been working in the apparel business for 10 years and while he's been very successful with his line, Rocawear, he admits he's made one big mistake."We really should have had some Rihanna Rocawear umbrellas when that song became a hit," he tells Women's Wear Daily.
"We could have made a load of money on those," he added. "I'm still kicking myself."
However although he's one of the biggest names in the entertainment interest, Jay-Z refuses to call Rocawear a celebrity brand.
Article continues below advertisement
"If I focuses on that, no one would buy the clothes," he explained. "People rely so much less these days on the logo. They want quality product, which is what I want Rocawear to be known for — we make a damn good pair of jeans...That's why people buy them."
With the help of his jeans, Jay-Z is hoping to help his company reach their goal.
"Our goal is to make Rocawear a $1 billion company," he said. "It may take us more time than we would like since the economy is in the shape that it's in, but I'm confident that we will get there."
Dare to dream, Jay-Z. Dare to dream.