NEWS
Jaycee Dugard's Interview With Diane Sawyer: "Do What You Have to Do to Survive"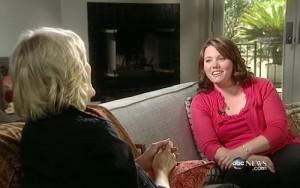 Jaycee Dugard's bravely gave her first TV interview aired last night on ABC with Diane Sawyer and shared her courageous story of how she survived spending 18 years in captivity.
OK! NEWS: JAYCEE DUGARD TO DIANE SAWYER — "YOU CAN'T IMAGINE BEING KIDNAPPED & RAPED"
Jaycee was held prisoner by kidnappers Phillip and Nancy Garrido for 18 years beginning when she was just 11 years old back in 1991. Now, Jaycee is sharing her story with Diane to show that there is life after tragedy.
Article continues below advertisement
"There's a switch that I had to shut off," Jaycee explained in the ABC News special interview. "I mean, I can't imagine being beaten to death, you know? And you can't imagine being kidnapped and raped, you know? So, it's just, you just do what you have to do to survive."
During her captivity, Jaycee gave birth to two daughters, fathered by her abductor, in 1994 and 1997.
Without being allowed to go the hospital, Jaycee said giving birth was the most painful experience of her life.
"And then I saw her. She was beautiful. I felt like I wasn't alone anymore," she explained of giving birth to her first daughter. I had somebody else who was mine…and I know I could never let anything happen to her. I didn't know how I was going to do that, but I did."
OK! NEWS: JAYCEE DUGARD TELLS DIANE SAWYER BEING FREE FROM HER KIDNAPPERS IS "UNBELIEVABLE"
And perhaps the most touching parts of the interview was the moments between Jaycee and her own mother, who never gave up hope she'd be reunited with her daughter.
"I feel like I spent my lifetime looking for her and dreaming about her and talking to you and you were always there. You never left me," Jaycee's mom, Terry Probyn, explained. "...He stole your adolescence. He stole high school proms and had pictures and memories…"
"But he didn't get all of me," Jaycee added.
Watch a clip of the interview (via AOL TV), below!