NEWS
Jayde Puts Brody on Probation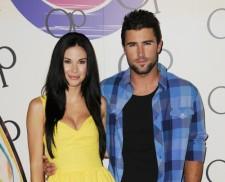 If you want to have Jayde Nicole over for dinner, you'd better not schedule it on a Tuesday because she'll be glued to her TV watching The Hills — without Brody Jenner.
According to a source, Shrine restaurant and club at the MGM Grand at Foxwoods, Connecticut, invited to Jayde — who was at the casino for a poker tournament — to have dinner there, but she declined. Apparently, she wanted to stay in her room so she could watch The Hills.
Article continues below advertisement
"She was laughing hysterically at it and saying that they cut it to make her look like a total bitch," a source tells OK!, adding, "Later she said that Doug Reinhardt was a really good guy, but that he'd turned into a horrible human being since he started dating Paris Hilton."
But Doug wasn't the only one in the doghouse that night, Brody was put there as well.
"She said that Brody is on probation," the source added. "He was texting and calling her the whole night, but she only replied once to say, 'You're on probation'."
Wonder what he was on probation for and if he ever got off?