NEWS
Jayma Mays on John Stamos: "I'm a Big Fan of His"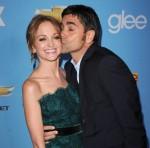 From recent photos it's clear that John Stamos is a big fan of his now co-star and love interest on Glee, Jayma Mays. But Jayma tells Parade that she's a huge fan of the Full House star.
OK! GALLERY: GLEE KICKS OFF SEASON 2 IN STYLE AT HOLLYWOOD SOIREE
Jayma is getting a new love interest in the upcoming second season of Glee and his name is Uncle Jesse.
"I was working in New York and I got a text from a friend of mine and it said, 'Uncle Jesse?' " Jayma explained to Parade on how she got the news she'd be working with John. "I had no context to know what that text meant, so I was like, 'What does this mean?' and she said I heard he was your new love interest, so I hopped online and quickly looked up what was going on and I was very, very excited."
Article continues below advertisement
"I am living my childhood fantasy. I'm a big fan of his. I grew up watching him, and he's the perfect fit for our show," Jayma said of John. "He's done Broadway, he's a singer and a dancer and he's a great actor. He's a triple threat."
OK! GALLERY: GLEE STARS IN A NEW YORK STATE OF MIND IN L.A.
But Jayma is also enjoying having John fight over her on the show with Matthew Morrison!
"I love it, I want boys to fight over me, what girl doesn't?" Jayma says. "I feel like Emma's getting more of a backbone this season, we're seeing a stronger side of her. So it's nice to see people chase her for a change."
OK! GALLERY: GLEEKS BEAM BRIGHT AT 2010 EMMYS!
While there may be drama on-camera, Jayma says there are no diva attitudes off-camera.
"It doesn't feel like anyone's changed to me. What's great about everyone in the cast is that we're all very grateful to be there. We're all very appreciative of the roles that we've been given and the show that we're on," the actress explains. "When we're nominated for things it's very exciting for us, we're enjoying it and we're enjoying the ride. Everybody's very down to earth and I don't think anyone has changed."