NEWS
Jen & Angelina Finally Come Face to Face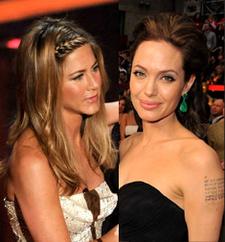 One of the most anticipated events of Oscar weekend had been the expected face-to-face meeting of <a href="https://okmagazine.com/search/aniston" target="_blank"><strong>Jennifer Aniston</strong></a> and the woman who stole <a href="https://okmagazine.com/search/pitt" target="_blank"><strong>Brad Pitt</strong></a> from her, <a href="https://okmagazine.com/search/jolie" target="_blank"><strong>Angelina Jolie</strong></a>, not at the Academy Awards themselves, but at the celeb-filled pre-Oscar "Night Before" bash on Saturday.
Article continues below advertisement
And while Jen made good on her decision to appear at the party, neither Brad nor Angelina even poked their head in for a second. So, instead of having their first public meeting at a party where they would be spared media scrutiny and the cameras, it was destined that it was going to happen Sunday night in front of a live, global TV audience.
Early in the Oscar proceedings, Jen stepped out onto stage with presenting partner Jack Black to announce the winners in the two animation categories. And even though the audience was filled with top-notch actors trained to keep their cool, all eyes immediately darted over to the seats near the front of the theater where Brad and Angie sat, applauding and smiling.
As a friend of Jen told <em>OK</em>! recently, "she has always known that this moment would happen and she's never been more ready," and you could tell by the Marley & Me star's calm and comfortable demeanor onstage.
"I was shocked at how well she held it together," one insider tells OK!. "Even if she is as over the whole situation as she claims to be, you'd think she'd have shown more frayed nerves considering the situation."
Article continues below advertisement
Those nerves of steel continued through the night's broadcast as Jen and her boyfriend John Mayer sat only a few seats away from Brangelina, applauding and smiling as each star's nominated category was announced.
"It's Jen who comes out of this the big winner," says the insider. "She looked good onstage; she looked good in the audience. And while she wasn't nominated for anything, Jen's movies certainly kicked much more box-office butt than either Brad or Angie's."
<a href="http://www.okmagazine.com/pixandvids/gallery/9410/" target="_blank"><img src="https://farm4.static.flickr.com/3523/3182836651_60be335c5f_o.jpg" width="163" height="51" alt="aniston2" /></a>
<a href="http://www.okmagazine.com/pixandvids/gallery/9331/" target="_blank"><img src="https://farm4.static.flickr.com/3344/3182671081_8a2eaa45e3_o.jpg" width="427" height="71" alt="Angie" /></a>