NEWS
Jen Aniston on Busting Gerry Butler Sneaking Sweets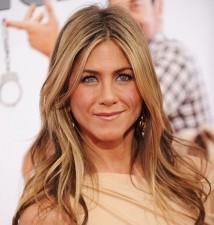 Jennifer Aniston continued her press tour for The Bounty Hunter this morning, chatting with Ryan Seacrest on his KIIS FM radio show. Jen dished on her yoga routine, catching hunky Scottish co-star Gerard Butler sneaking sweets and Heidi Montag being in her new film!
Gerard may have a toned physique, but Jen told Ryan he has quite a sweet tooth.
"Its sort of interesting, loves sweets," she says. "I guess he was on a strict diet shooting this even though the guy is supposed to be kind of down and out and frumpy, but he had trainers on set and I would bust him in corners with cupcakes.
Article continues below advertisement
Ryan sneakily slips in a question about recommending marriage, and Jen coyly responds,"Recommend it (marriage) as my character? Oh, that's a good way to get that one in there. Sneaky."
"I would say sure. Its terrible to generalize based on one experience that didn't necessarily work… Anytime you get a chance to get out of the daily routine that's exciting, but that doesn't mean what you are leaving is no bueno."
Article continues below advertisement
Jen's new spread in Architectural Digest shows off the actress's renovated oasis, revealing a peek inside her bedroom, complete with a stage!
"That is for performers, yes. What is wrong with that? Theater," Jen jokes.
She is currently into shooting a new comedy with Adam Sandler called Just Go With It.