NEWS
Jen & Courteney Turn Out to Remember Bernie Brillstein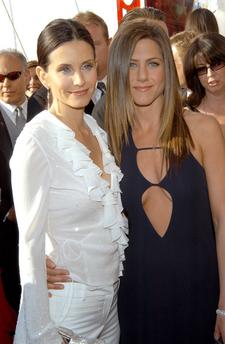 Usually, when best friends Jennifer Aniston and Courteney Cox get together, it's for a joyous occasion like a birthday or a baby shower, or even just sitting out by the beach. But last night was a different story for these former co-stars, as they attended a memorial service for Hollywood powerhouse Bernie Brillstein, who passed away on Aug. 7 at the age of 77.
Jen, in a black silk sleeveless top and matching below-the-knee skirt,drove solo to the somber occasion at UCLA's Royce Hall, where she met Courteney, who had driven there with her husband, actor David Arquette, in their black Range Rover.
Article continues below advertisement
During his long and celebrated career as a manager and producer, Brillstein not only shepherded the careers of both Jen and Courteney, he was also a partner in Plan B Films, the production company Aniston started with then-husband Brad Pitt.