NEWS
Jen & John: Fall Engagement?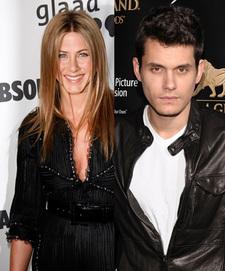 During his 105-minute show at the California Mid-State Fair in Paso Robles on July 23, John Mayer,30, told the audience, "I'm having the best summer of my life!"
And the same can definitely be said for his lovely lady, Jennifer Aniston! Since going public with their relationship in April, the couple has been so inseparable that friends suspect John will pop the question this fall.
An engagement would make sense for the pair, who since becoming an item, have vacationed together and travelled the world during John's tour. Though Jen wasn't in the audience the night John played Paso Robles, a private jet was on hand to whisk him back into her waiting arms in L.A. that evening.
Article continues below advertisement
The following day, the pair enjoyed a quiet lunch at The Polo Lounge in The Beverly Hills Hotel.
"Jen continues to be more public in her relationship with John than she has with anybody, ever," a source close to the actress tells OK!. In fact, the night before John's Paso Robles show, he and Jen had a romantic dinner at Madeo in West Hollywood.
"They shared the Dover sole and a plate of spinach and garlic, and each had a glass of Chianti," a restaurant patron tells OK!. "They seemed really content, very mellow and just happy to be together."
No doubt. On July 27, a beaming Jen, who had previously attended John's shows in Michigan, Wisconsin and Missouri, joined her guy at his performance in Irvine, Calif. He will next play the East Coast, before wrapping things up in West Palm Beach, Fla., on Aug. 31, and, an insider tells OK!, "Nobody will be surprised to see Jen there for the last stop. It will be a big night for him, and Jen loves South Florida."
Article continues below advertisement
True — that's where Jen, 39, and John, 30, went public as a couple last April, PDA-ing by the pool of the Miami Beach hotel, where she stayed while filming her upcoming comedy Marley & Me.
As OK! previously reported, the two have since been talking marriage, and one insider predicts they'll tie the knot before Jen turns 40 in February. Besides wedding planning, she'll have plenty of other projects on her plate. The super-busy star, who has three films in the pipeline — Management, Traveling and He's Just Not That Into You — looks ready to take on more work: She met with her managers and agents last week and was spotted on July 24 holding a script.
And in between picking out a wedding gown, she'll also be busy promoting Management, which hits theaters Sept. 19.
"As it stands now, John will be on the red carpet with her," the insider tells OK!. "And don't be at all surprised to see Jen sporting an engagement ring by then. These two are serious!"
For the complete story on Jen and John's engagement, pick up the new OK!--on newsstands today!