NEWS
Jen & John: Hot Between the Sheets!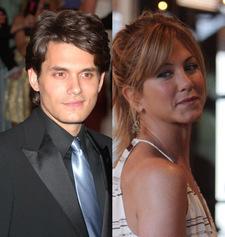 After being spotted together on vacations, at intimate dinners, even a bbq at Courteney Cox's Malibu beach house, it's clear Jennifer Aniston's relationship with her much younger beau John Mayer is giving her a glowing new sense of self.
The actress, who is known for runnng errands in faded jeans and t-shirts, showed up at J.J. Custom Upholstery in L.A. on June 5 wearing a low cut maxi dress that showed off her toned arms and ample cleavage. The reason for her sudden sexed-up self? Lots of action between the sheets!
Article continues below advertisement
"John is good in bed," a pal of the 30-year old singer-songwriter tells OK!. "Not just good, but sensational. Every girl I know who has slept with John says it was the best sex of their life. I'm not sure what exactly he does in bed, but after girls sleep with him, they're ruined. They get totally hung up on him and want more! Whatever John's secret is, he should market it. He could retire from the music industry."
Dating a man nearly ten years younger seems to have done wonders for the Marley & Me star, who was previously married to Brad Pitt, 44. "Great sex with a younger man can improve anyone's mood and attitude," says New York-based relationship expert Cooper Lawrence, who has not treated Jen.
"Jen's in a new relationship, and when you're having great sex, you dress to reflect how you feel. Instead of dark glasses and dull dresses, Jen's wearing short skirts and sexy tops. It's like sending a message to the world."
For the entire scoop on Jen and John, pick up the new OK! — on sale everywhere today!