NEWS
Jen Just Not That Into Her Movie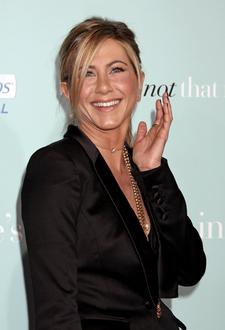 Jennifer Aniston had to know that this joke was coming after skipping out on the screening and after-party for her newest movie. Here goes: Apparently, the star is "just not that into" watching her own work.
After hitting the red carpet at the L.A. premiere of He's Just Not That Into You (without boyfriend John Mayer) Jen left the screening of the movie as soon as the lights went down, reports Celebuzz. The 39-year-old actress also opted out of the after-party at Social Hollywood, and hung out with friends at the Towerbar at the Sunset Tower Hotel with friends.
Article continues below advertisement
"She looked divine in her black pant suit," an eyewitness tells Celebuzz, "she literally glowed at the table as she talked in an animated fashion with her friends."
Courteney Cox Arquette was seated nearby, and actor David Spade was also at the hotspot with his own friends. Friendly Jen made sure to chat with everyone.
"Jennifer got up at the end of the night and made her way over to Courteney to say hello," says the onlooker, "David got up as well and there was a virtual star love fest. Jen showed Courteney her outfit.
"Jen and David hugged hello and playfully draped themselves all over each other for a few minutes. There was laughter all around," added the source.