NEWS
Jen & Scarlett are Hopeless Romantics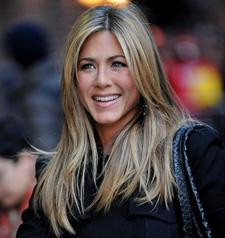 It doesn't seem like producers could have crammed any more A-list stars into the new film He's Just Not That Into You. And now, the cast of the movie, spawned from the best-selling book, is opening up about their own secret crushes and what they consider to be the perfect romantic gesture!
In an interview with Entertainment Tonight, Jennifer Aniston, Drew Barrymore, Scarlett Johansson and Ginnifer Goodwin all agree, chivalry is not dead!
Article continues below advertisement
"I took a boyfriend to a hotel for his birthday and brought a massage table and gave him a massage," Aniston admits. Both she and Johansson agree that "being surprised" is definitely a favorite. "It's nice to even be surprised with dinner plans," Scarlett continues. Barrymore agrees, "Chivalry is so great."
And when it comes to their secret childhood crushes, the ladies reveal some interesting choices, to say the least!
"I was really hot for Ted Koppel!" Barrymore says. "I've always had a place in my heart for Paul Newman," Goodwin chimes in. As for Johansson? "I'm a Patrick Swayze girl myself," she admits. And Jennifer Aniston? "I love Shaun Cassidy," the former Friend revealed.
The ladies also opened up about dating, and what it's like being a celebrity and trying to find a good guy.
Aniston tells Extra,"I think it's just hard to date. It's not like we're kids. We're not dating."
Article continues below advertisement
Goodwin admits "I love dates," and Aniston adds, "Dates once you've met someone." Johansson agrees, "Yeah but dating is different than going on a date. Dating to me is like you're with somebody and you're actually committed to them. And you have date night and it's romantic. Where actually going on a date, there's like an expectation."
As for her own love life, Barrymore, 33, says she's a traditional girl.
"I like dinner. I liked to be asked on a date," she says. "I like tradition." The actress calls finding Mr. Right "fun." "I believe in love. I'm gonna keep trying!" she affirms.