NEWS
Jen Tells Renée: You Can Have Bradley!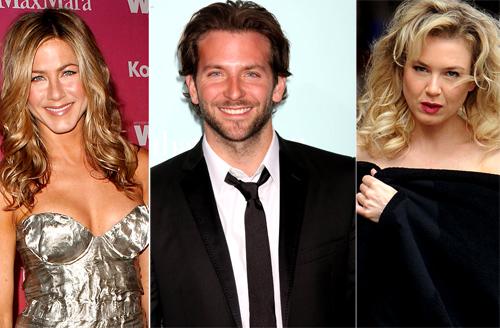 Renée Zellweger sent Jennifer Aniston a very clear message as she and Bradley Cooper engaged in some major PDA on a recent vacation in Spain: "He's mine." However, by the looks of things, Jen isn't mourning the loss of The Hangover actor at all!
While Renée was getting cuddly with Bradley in Barcelona, slipping her hand into his back pocket on a walk, and hugging outside a local church the next day, Jen's feeling far from wounded.
Article continues below advertisement
"She didn't care that he was enjoying being single and seeing other people. So is she," Jen's friend tells OK!. "Now that Renée's relationship has intensified, Jen is bored with the whole thing. She's saying he can have her."
Hoping to dispel the misconception that she's always the girl who gets dumped, the Love Happens star tells September's Elle magazine, "In my life, the reality is, I've been the one running out of the room as much as I've been portrayed as the one left in the room."
And the source says Jen has little time for Renée, dubbing her "Needy Edie," and joking that "Renée's face stopped moving a few years ago." Jen's also beginning to wonder what she saw in Bradley in the first place.
"She's less interested in Renée than in why she'd choose someone who would be interested in someone like Renée," says the insider. "She's disappointed in herself more than anything, because she thought that after all the trial and error since marriage ended she'd gained more insight."
Adds Jen's pal, "She not going to play games and compete with Renée in any way, shape or form. Bradley is out. And from what she's telling me, it's no great loss."
For more on Jen, Renée and Bradley, pick up the new issue of OK!, on sale everywhere!