NEWS
Jenelle Evans' Manager Says Kieffer Delp Was a "Leech" But Boyfriend Gary "Treats Her Right"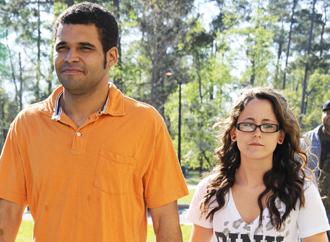 Jenelle Evans' health may be still a work in progress, but at least her relationships seems to be heading on the right path. The Teen Mom 2 star's new manager, Leo Daniels, spoke exclusively with OK! about Jenelle's new relationship with Gary Head and why he's better than Kieffer Delp!
OK!'S ULTIMATE TEEN MOM GALLERY — MACI BOOKOUT, LEAH MESSER & MORE!
Leo exclusively told OK! that Jenelle and Gary are doing "great." So why is Gary such an upgrade from Keiffer?
Article continues below advertisement
"Oh my God, we don't have time for that whole list," he said. "Gary treats her right. He's got good morals. He doesn't do drugs. He's in the military, treats her with respect. He's great with Jace. I think he's really like the first real boyfriend that she's had."
Does that mean Kieffer wasn't considered a real boyfriend?
"No, Kieffer was a leech," Leo plainly stated.
And Jenelle really has moved on from Keiffer even though it was so hard for her to do before.
"She hasn't had any communication with him in quite some time," her manager explained to OK!. "The whole thing is, is she's really been doing good."
OK! COVER STORY: TEEN MOM STAR LEAH MESSER'S HEARTBREAK — SHE SUFFERS A MISCARRIAGE
In this week's episode of Teen Mom 2, Jenelle was having major problems with her roommate, Tori. But that has all changed now.
"She's got her own apartment. She does not have any roommates," he revealed. "She has a room for Jace and spends a lot of time with Jace."
Article continues below advertisement
Even though Jenelle has her own place, Leo says the salary she receives from MTV is "not that great."
"She needs to renegotiate because she's not getting anything near where what the other girls are getting and she's the highest rated Teen Mom," Jenelle's manager explained. "And you got Amber which isn't on TV that much and she's getting $160, 000 I think."
Leo couldn't share how much Jenelle is being paid compared to Amber but did tell OK! "it is nowhere near that amount."
He also doesn't know how Jenelle's pay compares to the other Teen Mom 2 stars, but explained the amount is for the whole season but paid throughout.
Do you think the Teen Mom 2 stars should be paid the same as the Teen Mom girls?
Moving forward, Jenelle is focused on trying to stay out of trouble and clean up her image.
"That's exactly what she is doing. She's learning from it," Leo said. "She's learning not to repeat the same mistakes."