NEWS
Jenelle Evan's Video Fight "Instigator" Gets Arrested Again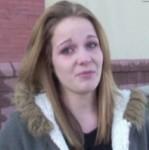 After video was released of Teen Mom Jenelle Evans getting into a fight with another girl a lot of arrests have been made — and they're still happening!
OK! VIDEO: WATCH JENELLE EVANS GET ARRESTED ON TEEN MOM 2 SEASON FINALE
One girl in the video, Jenelle's friend Brittany Maggard, was also arrested on Sunday with the rest of them on single count of simple assault.
She then admitted to TMZ's cameras that she instigated the fight by pushing Jenelle into her victim.
Article continues below advertisement
But her punishment for the crime is not over yet and has actually doubled.
Brittany was arrested again yesterday for violating her probation for a separate assault case.
As part of her probation, Brittany is required to obey all laws and being involved in the video fight went directly against that.
OK! NEWS: TEEN MOM'S JENELLE EVANS ARRESTED OVER VIOLENT FIGHT VIDEO
"Our officers arrested her yesterday afternoon for a probation violation," a spokesman for the North Carolina Department of Corrections told E! News.
Brittany was released this morning after posting $5,000 bail.
In last night's season finale of Teen Mom 2, Jenelle's mother was begging her to change her ways and focus on her son.
Do you think Jenelle will change her ways now and focus on her son, Jace, rather then spend time with her friends?