NEWS
Jenn Sterger: Woman Allegedly Behind Brett Favre Sex Scandal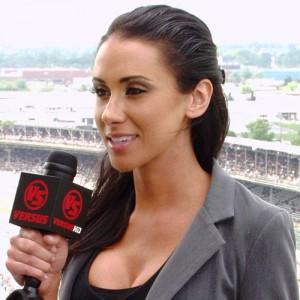 Vikings Quarterback Brett Favre is reportedly in the midst of a sex scandal involving Jenn Sterger, a sports reporter who was employed by the New York Jets when Brett played for the team. Neither Brett's camp or Sterger have spoken out on this time; however, the scandal is reportedly on the brink of imploding. So who exactly is Jenn Sterger?
According to her Web site, Jennifer is an actress, model, writer and television host.
Article continues below advertisement
OK! NEWS: AUDIO SURFACES IN ALLEGED BRET FAVRE SCANDAL
Before working as an in-stadium host for the New York Jets home team, Jen "served as a TV host on ABCs Race to March Madness."
Jenn's site also boasts that her "internet diary continues to be one of the most read personal entry-blogs on the Web."
Allegations of Brett's infidelity first surfaced back in August, and most recently audio has surfaced on Gawker sports blog Deadspin as mounting evidence that the footballer has been unfaithful.
Brett allegedly sent Sterger pictures of pornographic nature and the audio received by Gawker supports this alleged behavior.
Brett has been married to Deanna Favre for 16 years and the couple has two daughters together.