NEWS
Jenna Dewan: Worst Bride in the World?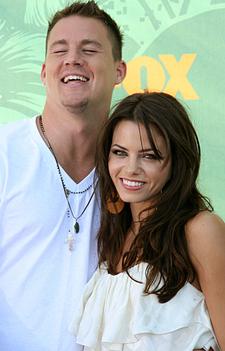 Jenna Dewan tells OK! she is making every effort to keep fiancé Channing Tatum's birthday gifts a surprise when he turns 29 Sunday.
Speaking of presents, what's the best gift she's received from him?
"This!" the actress, 28, shrieks during his Fighting premiere held Monday at NYC's Regal Union Square Stadium 14, proudly flashing the engagement bauble Channing presented her with in Hawaii last September.
Article continues below advertisement
"Almost everybody goes 'oh my God, that's so big,'" she says. "I go, 'I know.' I'm always checking to make sure it's on. I'm like 'OK' because it's sort of loose."
The ring is clearly thrilling, but how is wedding planning going?
"It's going slowly," she admits. "I'm the worst bride in the world. I haven't even thought about it. I'm just happy and enjoying being engaged."
She seems like she'll have plenty of time to enjoy that engagement, as she admits they don't have a date set for the big day.
"We really don't know," she says of when the nuptials will take place. "We're too busy. When you're too busy, wedding planning is so hard. It'll be soon."
One thing the stars who met on the set of 2006's Step Up have in common? They're bookworms!
"I like to read books," she says. "I'm a huge reader."
In his downtime, Channing says he like to "Sit and read and be calm. Zen out."
The lovebirds make sure they're reading side-by-side.
"We visit each other all the time," she says. "Whoever's working, we make it work."
Although she loves her ring and doesn't have a date set, Jenna's not taking her upcoming marriage lightly, gushing to OK!, "It means everything."
By Valerie Nome