NEWS
Jenna Fischer Opens Up About Staying Thin and Finding Love After Divorce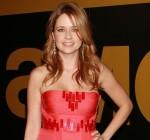 Who says you can't live happily ever after? Jenna Fischer, starlet from The Office, opens up about staying thin in Hollywood and finding love again after getting divorced. After all, she explains, if you gain a pant size e-mails get sent!
OK! NEWS: THE OFFICE STARLET JENNA FISCHER & LEE KIRK WED
In the cover story of the March issue of Redbook (via Huffington Post), the 36-year-old opens up about pressures of being thin. For instance, in a normal job if you gain or lose a few pounds it's no big deal, right? "But in my business you have to tell someone so that the next time you go to a fitting, the clothes are the right size." She adds, "It's really embarrassing to have to say to your manager, 'I'm now a 6 pant instead of a 4.' Emails go out, and they cc the agents: Jenna would like everyone to know that she's now a 6 pant." This is why actresses obsess about their weight. It's not a private affair."
Article continues below advertisement
OK! NEWS: JENNA FISCHER'S BURGER LUST
While it sounds like Jenna makes weight management a priority, love reigns supreme as well. The remarried last summer after getting over a divorce and tied the knot with screenwriter Lee Kirk. The executive producer on the show told her, "Finding love is not as hard as picking the right person to spend the rest of your life with."
She explains, "I'd start to fall for someone and think, but that's not a good match. The fluttery feelings aren't enough. When I was younger, I thought you married the person you fell in love with the most. But as my ex-husband and I learned what we wanted, I realized there was a whole other set of criteria. You have to ask, 'Do we have the same goals?'"