NEWS
Jennie Garth: Divorce is Not an Option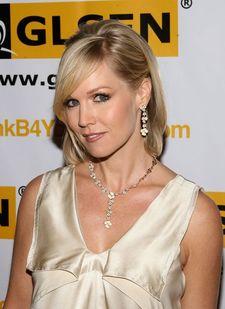 Keeping her family together is the number one priority for 90210 star Jennie Garth. The actress, 36, who has been married to Twilight hottie Peter Facinelli for seven years, tells OK! that when it comes to making her marriage work, it's about the little things.
"Today I went to Coffee Bean and got him a drink — just keeping your partner in mind," Garth says. "In this industry, there's always going to be someone more beautiful out there. It's easy to be tempted. I'm not interested in taking the easy way out. Divorce is not an option for us. I want to be with my family."
Article continues below advertisement
Speaking of family, Jennie and Peter have three adorable daughters, Luca Bella, 11, Lola Ray, 5, and Fiona Eve, 2. Three kids is a lot by anyone's standards let alone two working Hollywood parents. But Jennie says she'd love more kids.
"Will you talk to my husband for me please?" she jokes. "I want to have a baby or adopt. My body keeps telling me to have babies."
When it comes to her role on the new 90210, Jennie says she keeps in touch with former nemesis Shannen Doherty even when they're not working together on the show.
"I tried to text her yesterday and I couldn't find her number!" she tells OK!. "I had it in my phone and I couldn't figure out where it went."
And as for rumors of Luke Perry returning to the show, she says, "There are lots of rumors, but I don't know. I know that I would love it more than anything and I know that he's the father of Kelly's baby. I was like, 'really? Okay, wow!'"
On the new show, the girls of West Beverly High are clearly thinner than the original cast — something Garth can't deny.
Article continues below advertisement
"In the original 90210, we were all different shapes and sizes, none of us were exceptionally thin or fat," Garth says. "I think that as a mother it's hard for me because I want them to have a healthy perspective on their body."
She adds, "I can not deny the girls on 90210 aren't thin. But do they have eating disorders or psychological problems? I don't know. I'm not their therapist or their mother."
For OK!'s complete interview with Jennie, pick up the new OK! — on newsstands everywhere now!