NEWS
Jennie Garth's Dancing With the Stars Blog (10/1)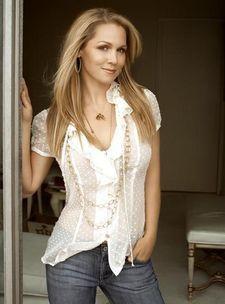 October 1
Hi Everyone!
I'm going to be keeping a blog here on OKMagazine.com chronicling my experience on Dancing With the Stars. And what an experience it's been already!
I've been training so hard for weeks and weeks and had the dubious honor of going first last week! I was SO
nervous, but the good thing about going first is that you get it over
with! And I did and made it past the first week — thanks to you guys!
Article continues below advertisement
Thank you to everyone who voted! I did not want to be the first to go!
Unfortunately, there was no time to celebrate because I
had to head right back into rehearsals to learn the next dance. After
the results show, I got in my car and drove to the dance studio to get
started on the Quick Step, which
and I will perform tonight. Thank God Derek is patient with me — he's
the best. Rehearsals are intense and extremely demanding on the body,
but I really do have the greatest partner so we always manage to have a
lot of fun too.
Now that the first dance is out of the way, I am pushing
myself even harder to do well, which is a real challenge with three
kids. I'm so exhausted by the end of the day, and my feet and body are
still sore. But one of the reasons I did the show was because my girls
loved watching it so much, and I am determined not to let them down!
Article continues below advertisement
It has become a family tradition for us to watch the show
every year, so I really want to do well for them. It's what drives me.
I have two girls in school and my youngest is just walking. After you
have kids, your life is spent enjoying time with them and making their
lives richer. The show is a part of that. My youngest daughter, Fiona,
turned 1 yesterday, so that was one day I didn't have to think about
dancing! We had a family party for her!
But now it's Monday... I'm getting nervous already!
Well, it's back to rehearsals now! I hope you'll be
following along with me on here and on the show. I really appreciate
all of your support and I promise to do my best tonight!
- Jennie