NEWS
Jennifer Aniston Admits (Sorta) to Having a Nose Job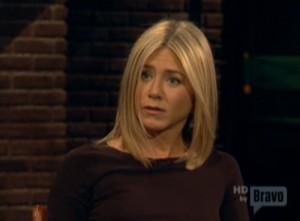 Jennifer Aniston's episode of Inside the Actors Studio aired last night on Bravo, and the 42-year-old actress indirectly answered one pressing question that has spanned the length of her career — did she have a nose job?
Jen was sharing her stories about playing sports when she was younger, and revealed she broke her nose after a baseball nailed her in the face.
Article continues below advertisement
"That's a broken nose?" host James Lipton asked, gesturing at Jen's pretty mug.
"Sort of," she said shaking her head, before adding with a laugh, "Not anymore."
Her witty response got a rise out of the audience, as it indicated that at one point in her life, she had corrective surgery on her nose.
The host praised Jen for delivering one of the "all-time best answers" from any actor who has been on the show.
Jen also discussed the timing of her hit movie, The Break Up, as it was filmed during her very public divorce from Brad Pitt.
"I sort of honestly felt like, what a great way to sort of exorcise some of that," she said, explaining how the process helped her move on.
Catch the clip, via TV Squad, below.