NEWS
Jennifer Aniston Celebrates Her New Fragrance at Sephora in NYC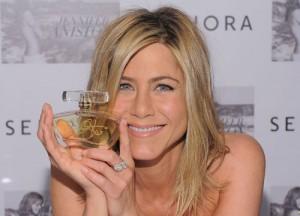 Jennifer Aniston celebrated her new fragrance, appropriately named "Jennifer Aniston," yesterday with 250 lucky fans at Sephora in NYC. Jen greeted fans and signed perfume in an eye -popping red Vivinne Westwood strapless dress. Fans were greeted by Jen and even walked away with their very own autographed bottle from the starlet!
Article continues below advertisement
Jen told ET that the making of the fragrance "was inspired by many things and it took quite a long time to sort of develop, which I really enjoyed the process." "Of all the things you get approached about, this one sort of felt organic and right," Jen explained.
Huffington Post reports that Jen's ex, Brad Pitt, met up with Jen's close pal, Courteney Cox for dinner earlier this week at Hollywood hotspot, Beso. Hmm, wonder what the two were up to?
By Alannah Scharfenberger