NEWS
Jennifer Aniston Confronts Perez Hilton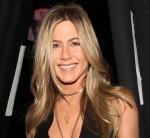 When Jennifer Aniston appears on The Ellen DeGeneres Show tomorrow to promote her new movie, Just Go With It, the actress has more to talk about than just the comedy. Turns out she recently went face-to-face with Perez Hilton and "stood like two deer in headlights." Then she simply asked him, "Why are you so mean?"
OK! NEWS: JENNIFER ANISTON TALKS KEEPING UP WITH ADAM IN JUST GO WITH IT
According to The Huffington Post, Jennifer told Ellen she ran into Perez in a garage. "One of those moments you just never expect to happen," she recalls. After eating dinner with a friend, they drove out of the garage and Jennifer spotted Perez.
Article continues below advertisement
OK! NEWS: JENNIFER ANISTON ADOPTION REPORTS NOT TRUE
"So I pulled up and we were sort of scoping each other out as I was pulling the car up. I just rolled down the window and I was like, 'Hi.' And he went, 'Hi.' We stood there like two deer in headlights. And I just said, 'Come here. Just talk to me for a second.' It was one of those great moments. It was a lovely meeting and I was just like, 'Why are you so mean?'"
OK! NEWS: JENNIFER ANISTON ON "THE RACHEL" HAIRCUT — "IT WAS THE UGLIEST THING I'VE EVER SEEN"
Since Perez appeared on Ellen's show in October and revealed he was no longer going to bully celebs, Jennifer gave him props for his commitment to being part of the solution instead of being part of the problem.
Jennifer added, "There's something really great about putting a human being in front of another human being and then the reality that those words, even if it's for humor or effect or whatever, there's a human being behind all of that...And he's kept it up too which is good."