NEWS
Jennifer Aniston Heats Things Up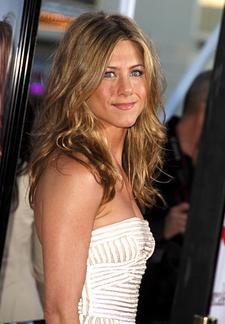 One look at the new cover of GQ magazine is all it takes to answer the question of how Jennifer Aniston looks: definitely not nearing 40. Wearing only a red, white and blue tie and a smile, the Marley & Me star seems to be saying, "Here I am, and I'm happy!"
"I still can't wrap my head around how old I'm going to be," she tells the magazine. "I feel more comfortable today than I ever did in my twenties or early thirties. I'm healthier. I'm more at peace in my mind and with my body."
Article continues below advertisement
CLICK HERE for OK!'s Ultimate Jennifer Aniston gallery!
That body is the star of a scantily clad photo shoot as well, including one picture of Jen sprawled across naked, musclebound hunks.
"There is a moment when you walk in and see the wardrobe — it's basically a tie — and you think, Where's the underwear?" she admits. "But it felt really good to be that comfortable with myself—and to lie on men as furniture."
As for the ever present issue of how she feels about Brad Pitt, Angelina Jolie and all their kids, Jen does find a bit of humor in the "insane Bermuda Triangle," as she calls it.
"The funny thing is that people don't realize we all go away to the Hamptons on the weekends," she jokes, before admitting that no, that's not really true. "But can you imagine? That'd be hysterical: I've got Zahara on my hip, and Knox…"
Article continues below advertisement
In all seriousness, Jen seems to be on the level with her ex, revealing, "We don't not talk. When there's something to congratulate or celebrate, there's always an exchange. But there's no charge on it."
Things are just as you'd expect between Jen and Angelina, however, as she says they don't talk. Oh and that whole thing about Angie admitting she and Brad fell in love on the set of Mr. and Mrs. Smith while he and Jen were still married?
"Considering the source, nothing surprises me," Jen offers.
So what about her new man, rocker John Mayer?
"We care deeply for each other, and we're just trying to figure it out," she explains, adding, "I am not having his baby. And I have not popped the question."