NEWS
Jennifer Aniston Not Going Topless in 'Horrible Bosses': "It's a Good Rumor"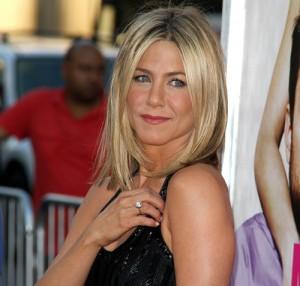 Jennifer Aniston may flaunt her toned body in black lacy lingerie in the Horrible Bosses trailer, but moviegoers aren't going to get much more from the A-list actress in the film. Jen has set the record straight about all the buzz and rumors saying she goes topless in the flick.
"I have no idea where those rumors started, but it's a good rumor," Jen told Chicago Sun-Times, via PopEater.
Article continues below advertisement
She added: "Not true at all. Where do these things start?"
Jen plays a dentist who has no shame when it comes to sexually harassing her assistant — played by Charlie Day — and she welcomed the raunchy role.
"It's usually the male character in that role," she said of her character. "That's why I thought of the character like a guy. Other than that, I just stuck to what was in the script. I didn't have any input as to what she said. That was all on the page. And I was tickled and excited. The raunchier, the better."
Is Jen tired of the rom-com genre?
"I don't want to play it safe all the time," she said. "I wanted to take a risk... I wanted to do something that allowed me to go in a different direction. I've never had a script come to me in the past that allowed me to go in this direction."
Watch the Horrible Bosses trailer below. (Warning: Some Content may be NSFW) The flick hits theaters on July 8!