NEWS
Jennifer Aniston Returns to 'Friends' Short & Sexy Season 7 Haircut!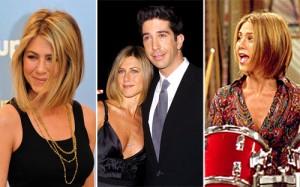 Justin Bieber haircut 2011 watch out —The Rachel Greene is back! Jennifer Aniston is bringing her bob — circa 2000/01 filming of Friends — back! The actress sported shorted locks at the premiere of Just Go With It in Spain, and certainly caused a raucous with her new 'do!
Jen chopped a few few inches off her hair, resembling her Friends' bob during Season 7 — the year she turned 30, dated Tag and kissed guest star Winona Ryder!
Article continues below advertisement
"Let's just say there have been moments I'd rather not relive, like that whole Rachel thing," Jen, 42, told Allure recently. "I love Chris, and he's the bane of my existence at the same time because he started that damn Rachel, which was not my best look. How do I say this? I think it was the ugliest haircut I've ever seen. What I really want to know is, how did that thing have legs?"
So why did she bring a "Rachel" haircut back?
Jen kisses guest star Winona Ryder "The One with Rachel's Big Kiss", Season 7, Episode 20.
Season 7 bloopers