NEWS
Jennifer Aniston Still Tagging Along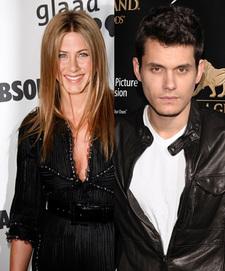 It was the Fourth of July last week and sparks definitely flew between Jennifer Aniston and John Mayer.
The actress, who's been tagging along on her man's tour for the past few weeks, continued her groupie ways in Wisconsin, where eyewitnesses tell OK! they were "lovey-dovey," last week and followed that up with low-key visit at Missouri's Verizon Wireless Amphitheater.
"She was out in the audience earlier, with a bunch of competition winners, and watched John's sound check," a source tells OK!. "She was super cute."
Article continues below advertisement
Fans didn't forget about 39-year-old Jen, who watched from backstage, during the show. Twin video screens flashed anonymous notes crowd reading, "Team Aniston," and "John, I'm pregnant. - Jen."
Ever the jokester, John joined in on the fun, a source tells OK!. The 30-year-old kidded around with the crowd and left his biggest fan in stitches backstage.