NEWS
Jennifer Aniston Strikes a Flirty Pose With Jason Sudeikis, Jason Bateman & Charlie Day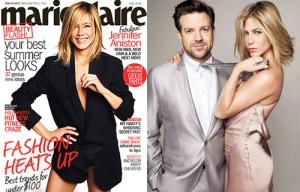 Article continues below advertisement
Jen plays a dentist who sexually assaults her assistant; but in the new photos for Marie Claire it doesn't seem like any of the guys mind Jen's affections!
OK! VIDEO: WATCH JENNIFER ANISTON GET RAUNCHY IN NEW HORRIBLE BOSSES TRAILER
"Poor Charlie," Jen told the magazine. "He had to put up with me harassing him for two solid weeks."
"I play a dental assistant, and she is a dentist, my boss, who wants to sleep with me even though I'm desperately in love with my fiancée," Charlie explained. "I won't do it. My character is not into it."
"It's a real testament to your acting ability," Jason Bateman added.
"Yeah, it's a tough concept to sell," Charlie said.