NEWS
Jennifer Aniston Talks Nudity in 'Wanderlust': "There's A Lot of Penises in This Movie!"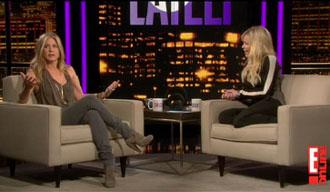 Article continues below advertisement
"I've been lucky enough to see you topless in our private life, but America, when they go see the movie, will get to see her topless running!" Chelsea told Jen, who replied, "There's a lot of nudity, a lot of slow-motion, action nudity."
And a lot of the sexy scenes involve the male stars of the film, including Jen's man Justin Theroux and co-star Joe Lo Truglio, who sports a "really intense" prosthetic penis!
"There's a lot of penises in this movie," Jen confirmed. "Finally, for once, the men have to disrobe, you know? I mean, there is your fair share of 'breasticles' as well, but penises are promised."
As is a scene where Jen and the rest of the cast trip on acid — something she admits she's never experienced in real life.
"I've actually never done LSD," Jen said. "So, I don't know. I just kind of imagined every greatest fear I could have. Which is like, which is what happens. And it was shot... was that kinda trippy?"