NEWS
Jennifer Aniston Would Be a "Party Planner" if She Wasn't an Actress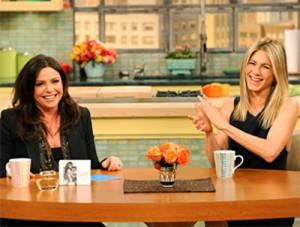 While promoting her newest flick Just Go With It, Jennifer Aniston paid a visit to Rachael Ray on the set of her hit talk show and opened up about her recent birthday, being in her 40s and what her dream job would be if she wasn't acting!
Jen turned 42 last week and celebrated her birthday in the big apple with costar Adam Sandler and other famous pals including the hunky Jake Gyllenhaal.
Article continues below advertisement
"All of a sudden you're labeled, you're a number. . . It wasn't like 30-plus or 30 something. It's just that all of sudden, it's like, 'Wow for your age, not so bad.' It's like what?," Jen tells Rachael of being in her 40s, via PopSugar, in an episode airing tomorrow.
Jen also shares with Rachel what she would be doing if she wasn't an actress.
"You know what, I would be a party planner! Why do I want to be a doctor? That's so depressing, leave that to the professionals," she says. "I haven't even played one of those on TV! I would want to be a party planner. I love planning a party, I love mixing people together. I love getting the food ready, it's just fun. And people always have a good time."