NEWS
Jennifer Aniston's Boyfriend Justin Theroux Has His Bike Vandalized by Bologna?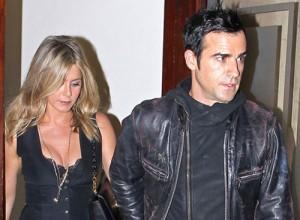 Jennifer Aniston's new beau Justin Theroux has reportedly fallen victim to vandalism. The actor's BMW motorcycle was allegedly covered in bologna by a prankster outside of Jen's West 12th Street apartment.
The New York Post's Page Six reports that a neighbor who was walking a dog early Thursday morning, identified "up to 25 slices" of "what clearly was bologna" covering the seat, the wheels, handlebars, muffler and engine of Justin's bike.
Article continues below advertisement
But the meat was not left on the bike long, swiftly cleaned up by someone.
"I got the impression it was some weird message, like, 'You're full of bologna,' " the neighbor said to Page Six. "The bike was in otherwise in fine condition."
Justin and Jen have been parading their love all over the Big Apple.
Earlier this week the couple did a photoshoot for celebrity photographer Terry Richardson.
On Terry's website, he begins the Jen and Justin photo set with a picture of the Big Apple and the caption "New York Love Story."
FOR MORE PICS OF JEN, CHECK OUT OK!'S ULTIMATE JENNIFER ANISTON GALLERY!