NEWS
Jennifer Aniston's Turning 40 and Fabulous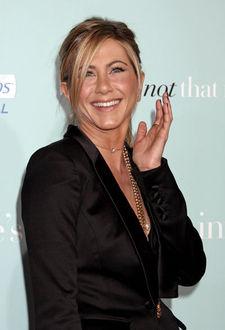 Jennifer Aniston stopped by the Tonight Show with Jay Leno to promote her latest movie He's Just Not That Into You on Thursday, but it was the actress's upcoming 40th birthday, on Feb. 11, that seemed more interesting to the late night host.
Wearing her standard little black dress accessorized with multiple gold necklaces and black stilettos, Aniston played coy about her birthday plans, telling Jay Leno, "I haven't given it much thought," before adding, "This is going to be a birthday to celebrate."
Article continues below advertisement
But off camera, the actress wasn't quite as confident. "She looked a bit nervous before coming on," an audience member tells OK!. "She kept finicking with her hair."
During the segment, Leno asked Jen about the recent dog rescue that took place in her nearby neighborhood of Beverly Hills that was caught on film by paparazzi.
Leno held up a copy of OK! Magazine's cover of Jen titled Good Car-Ma, telling her how "great" she looked. Aniston said the dog was in danger of being hit by oncoming traffic and that a photographer actually helped her rescue it.
"For once a photographer did something right," she quipped. "We are all about change!" The dog actually belonged to the dentist of her hairdresser Chris McMillan.
"Only in Hollywood this could happen," she said.
Aniston was rumored to have spent Super Bowl Sunday with her rocker beau John Mayer at a gathering in Calabasas, Calif. While she confirmed she did go to a party, she didn't quite say with whom, adding, "I'm not going to lie, I went in and asked, 'Who's playing today?'"