NEWS
Jennifer Connelly Cozies Up to Her Co-Star Husband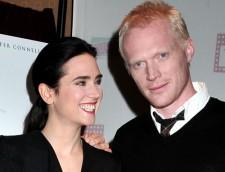 Jennifer Connelly was all smiles at a photo call for her new film Creation on Tuesday, probably because she has such a good looking co-star — who just also happens to be her husband Paul Bettany! Jennifer and Paul, who will soon be seen shirtless and winged in Legion, posed like the perfect pair for photos at the Regency Hotel in NYC. Hope that ones goes up on their mantel!
EXCLUSIVELY IN THE PAGES OF OK! — ALL THE DETAILS ON HOW NEW MOMS KENDRA AND KOURTNEY ARE DEALING WITH MOTHERHOOD
Article continues below advertisement
Also in this issue:
• Everything you need to know about Carrie Underwood's wedding!
• The feud between Jennifer Aniston and Angelina Jolie is just getting worse.
• Tag along with Jersey Shore's Ronnie and Sammi on their romantic night out in NYC!
...and all the latest news, gossip and photos!