NEWS
Jennifer Garner Voted Fave Celeb Mom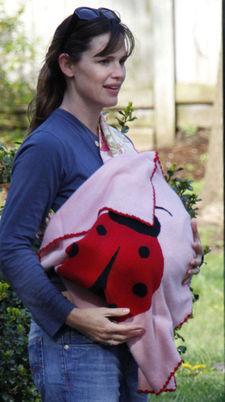 Out of all the celebrity moms adopting babies from poor countries and spending time with them on tour, down-to-earth Jennifer Garner was voted Best Celebrity Mom in a poll of ParentDish.com's readers in honor of Mother's Day.
Jen, mom to Violet and Serafina, came in with 37 percent of the vote, beating out Reese Witherspoon tied for second with 26 percent, Michelle Obama also with 26 percent, and Angelina Jolie with a paltry four percent.
Article continues below advertisement
PICS OF JEN GARNER & HER GIRLS:
If any of those celebs ever need babysitters, they should heed the results of who readers would feel most comfortable leaving their kids with: Ellen DeGeneres and Portia di Rossi came in on top with 31 percent of the vote, Jennifer Aniston grabbed 22 percent, Rachael Ray is trustworthy enough at 20 percent, Angelina and Brad Pitt took 18 percent of the vote, and Oprah Winfrey came in last with nine percent.
Other celebs didn't fare so well, as the poll also took account of the Worst Celebrity Moms. Courtney Love and Dina Lohan tied to take that honor with 32 percent of the vote each, followed by Britney Spears at 27 percent, Sarah Palin at six percent, and Kate Moss at three perecent.