NEWS
Jennifer Hudson Discusses Dramatic Weight Loss on 'Today': "I Feel Empowered"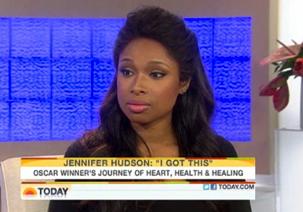 For anyone who's trying to get motivated to work on their New Year's resolution to lose weight, Jennifer Hudson is the perfect inspiration. The American Idol star and Oscar-winner lost 80 pounds and is sharing her experience to help motivate others.
Jennifer stopped by the Today show this morning to promote her new book, I Got This: How I Changed My Ways and Lost What Weighed Me Down, and chatted with Ann Curry about her dramatic weight loss.
Article continues below advertisement
And Jennifer says she really wanted to "set an example" for her son, so she worked hard to avoid the "hostile reception" that can come with dramatic weight loss.
Visit msnbc.com for breaking news, world news, and news about the economy