NEWS
Jennifer Hudson On Motherhood and Her "Fierce" Wedding Dress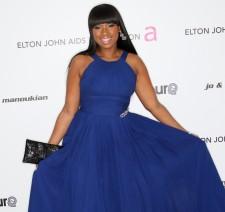 Jennifer Hudson stepped out looking stunning in a royal blue flowing gown at Elton John's Oscar party on Sunday, but the Hollywood social scene comes second to her true vocation — motherhood.
"He's great. He's steadily growing," Jennifer told Access Hollywood's Maria Menounos of her seven-month-old baby boy, David Otunga Jr. "He's crawling now."
OK! NEWS: JENNIFER HUDSON'S BABY LOVES HER SINGING
"I'm just loving being a mom," the Chicago-born singer gushed.
Article continues below advertisement
Little David already has a huge personality and loves the family dogs: "He's always trying to play with them and he thinks he's one of them," says Jennifer. "He even growls like the dogs and I'm like, 'Are you growling?'
OK! NEWS: "WE ARE THE WORLD 25 FOR HAITI" VIDEO IS RELEASED
"We were just on the plane the other day and he was growling at the broccoli that he was playing with," Jennifer laughed. "He was like, 'Arrrrr!' He growls at the other babies and he think that's how you're supposed to communicate."
Apart from raising her son, Jennifer has another landmark on the horizon — her wedding. So what can she tell us about her dress?
OK! NEWS: STARS GOOF OFF AT THE OSCARS' GOVERNORS BALL
"You'll have to wait and see it. It's fierce… It has its own show."
And like any bride Jennifer has been working out ahead of her big day: "I just walk, run, stay consistent and just stay in focus," she said. "It's all about health this year."