NEWS
Jennifer Hudson Takes the Stand in Family Murder Trial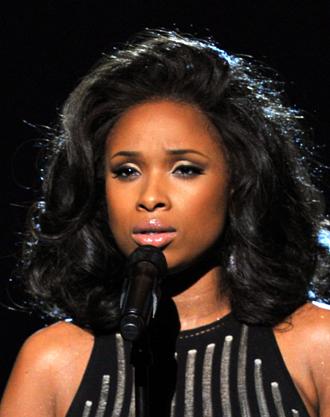 Jennifer Hudson took the stand today as a witness in the trial of William Balfour, her ex-brother-in-law who is accused of killing Jennifer's mother, brother and nephew in 2008.
OK! NEWS: JENNIFER HUDSON TO POSSIBLY TESTIFY AT HUDSON FAMILY MURDER TRIAL
Balfour is charged with three counts of first-degree murder. Prosecutors maintain that he killed members of Jennifer's family after flying into a jealous rage — Balfour was estranged from his wife, Julia Hudson, at the time of the murders. Prosecutors say that after seeing a gift of balloons he believed to be addressed to Julia from her new boyfriend, he shot Jennifer's mother, 57-year-old Darnell Donerson, and Jennifer's brother, 29-year-old Jason Hudson, in the Hudson family home in the Englewood neighborhood of Chicago. He then drove off with Julia's son, 7-year-old Julian King, before shooting him.
Article continues below advertisement
"I would tell Julia over and over again not to marry William," Jennifer said on the stand. "None of us — myself, my mother or my brother — we did not like how he treated her and I did not like how he treated my nephew."
Judge Charles Burns sustained objections when Jennifer spoke about how she did not want her sister to marry Balfour. Jennifer also said that she was very close with her mother — they even slept in the same bed until she was 16. After moving out of the family home, she said she spoke to her mother every day.
Jennifer was in Tampa, Fla., with her fiancé, David Otunga, when the slayings occurred.
"I noticed that — I'm looking to see the text from my mom and there wasn't any," Jennifer said. "I kept sitting there, wondering, like, 'That's strange.' That's the first thing I said, 'My mom didn't text me.'" Jennifer said she texted her mother, but did not receive an answer. Another text an hour later also went unanswered.
Article continues below advertisement
"Maybe she's busy; I don't know," Jennifer said of what she was thinking at the time. "I knew she would get back to me, you know, so I remember falling back to sleep. And when I woke up, that's when I got the news. My sister called my fiancé's phone. I remember it like yesterday, obviously. He couldn't understand what she was saying because she was so hysterical, and I grabbed the phone from him and that's when she told me."
Jennifer became emotional when speaking about her family, and had to be told to speak up.
"It was always me and my Tugga Bear," she said of her nephew. "That's what I called him."
OK! NEWS: JENNIFER HUDSON SINGS MOVING WHITNEY HOUSTON TRIBUTE AT 2012 GRAMMYS
Balfour says he was not near the Hudsons' home at the time of the murders. There are no known witnesses, but Julia Hudson claims she saw Balfour lingering outside her house as she left for work the day of the killings. Prosecutors say gun powder residue was found on the steering wheel in Balfour's SUV; the defense says that the evidence is circumstantial. A gun, which was allegedly stolen from Jennifer's brother several months prior, was recovered in a lot near where police first found Balfour's SUV. Prosecutors will present this as the murder weapon.
Julia Hudson's divorce from Balfour was finalized last year. Balfour allegedly threatened to kill the Hudson family at least two dozen times since moving out of the Hudson family home in 2008. Testimony for the trial could last up to one month. Jennifer is expected to attend each day.