NEWS
Jennifer Jason Leigh, hubby get 'help' for anniversary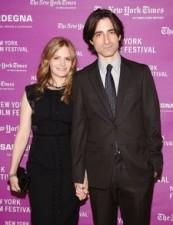 Jennifer Jason Leigh, 35, and Noah Baumbach, 38, celebrated their second anniversary with a film festival screening of the Beatles flick Help!
"We get along," Noah tells me at a special screening of their movie Margot At The Wedding.
"I trust him and I believe in him," she adds.
What was it like for Noah to direct his wife in the family drama, out now?
"It felt like a natural extension of our regular marriage. Except we had a lot more people around us and cameras and she was acting as someone else. It was only a positive. I think I could direct her in a more nuanced way because I know her so well. She could understand me."
Article continues below advertisement