NEWS
Jennifer Lawrence Acts Out Meeting Kristen Stewart: "Books! Who Knew?"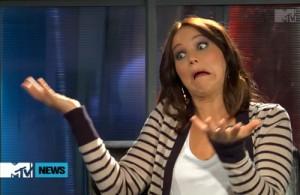 Jennifer Lawrence and Kristen Stewart have one big thing in common — they both star in book-to-movie franchises!
OK! NEWS: JENNIFER LAWRENCE AS KATNISS IN THE HUNGER GAMES FIRST LOOK!
Jennifer has signed on to star as Katniss in The Hunger Games, a film adaption of Suzanne Collins' hit book.
She's already begun her transformation into the character and now the comparisons to Kristen have started as well.
Article continues below advertisement
Kristen just wrapped her role as Bella in the final installment of The Twilight Saga and knows what it's like to play the leading lady in a huge franchise.
So, has Jennifer had a chance to commiserate with Kristen?
"No, I haven't spoken to her," Jennifer told MTV News.
And she's not sure what they would say to each other if they ever did meet, but she made her best attempt at acting out the awkward encounter.