NEWS
Jennifer Lawrence: Hunger Games' Josh Hutcherson is "Dreamier" Than Robert Pattinson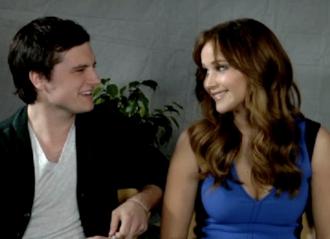 Article continues below advertisement
"But you sound like a Hick sometimes," Jennifer told Josh.
"And that's attractive?" he asked.
Jennifer stood firm on Team Hutch and said, "Yeah! You've got an accent."
Aww, Jennifer's so nice to her co-star! But do you agree with her logic?
OK! NEWS: HUNGER GAMES STAR JENNIFER LAWRENCE DOESN'T WANT TO BE AS FAMOUS AS KRISTEN STEWART
But Jennifer says Twilight would win in a fight.
"J-Law, cage match. Hunger Games vs. Twilight. You'd kick Twilight's teeth in, right?" Horowitz also asked.
"Um, no. I can't do that," Jennifer said. "Unless I had a silver bow and arrow."
"Which I do," she realized. "They don't fly very far but they look cool."
Watch the hilarious video over at MTV.com!