NEWS
Jennifer Lawrence: 'Hunger Games' Stars Liam Hemsworth & Josh Hutcherson Are 'Like Brothers'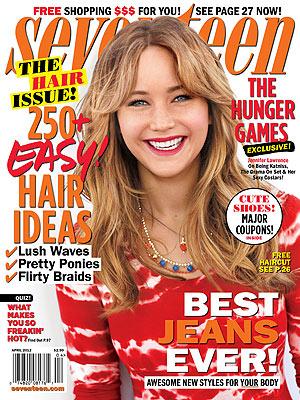 Article continues below advertisement
For starters, is Jennifer Team Gale (Liam) or Team Peeta (Josh)?
"I think I was Gale, until he started getting a little too trigger-happy... or maybe first Peeta and then Gale, or Gale then Peeta? I went back and forth a lot!" she tells Seventeen magazine in the April issue.
In real-life, Jennifer is close with both of the guys. Twilight's Kristen Stewart eventually left her boyfriend Michael Angarano to start dating her co-star Robert Pattinson. But it doesn't sound like Jennifer (who is dating Nicholas Hoult) will be doing the same.
And when Jennifer wasn't annoying her co-stars, she was probably watching some Bravo reality show!
"When I'm not working, I love to just hang out with my friends and watch Real Housewives," the 21-year-old actress admits. "My favorite cast used to be New Jersey, but now I'm really into Beverly Hills."