NEWS
Jennifer Lawrence to Liam Hemsworth on 'Hunger Games' Set: "Do You Have Sex With Kangaroos?"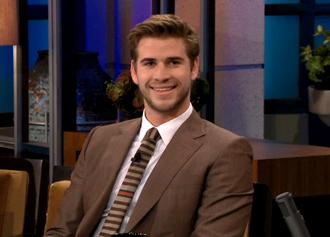 Liam Hemsworth chatted with Jay Leno last night about working on The Hunger Games with Jennifer Lawrence. While he respects her acting talents, Liam revealed she has a rather strange method!
OK! GALLERY: LIAM HEMSWORTH ATTENDS A HUNGER GAMES BOOK SIGNING
"She's great," Liam said of Jennifer on The Tonight Show with Jay Leno. "She's an amazing actress, obviously."
But?
"Incredibly unpredictable person. You can never really tell what she's going to do." he added. "She'd ask me interesting questions before action like, 'So Liam, do you have sex with kangaroos?' "
Article continues below advertisement
So, what was his response?
"Not generally," Liam joked. "But it's not unheard of."
OK! GALLERY: JENNIFER LAWRENCE GREETS HUNGER GAMES FANS IN MADRID
Liam also revealed that he worked some odd jobs before he became an actor.
"I think my first job was I worked in a bakery. I made bread. I would get up at 6 o'clock in the morning and make bread for a few hours."
What? Liam was "the boy with the bread?" Maybe he should have played Peeta!
And as for those rumors that Liam and his girlfriend Miley Cyrus are engaged? Liam reconfirmed that they're not explaining, "I'm in a happy relationship, but I'm not engaged."
"She had a ring on her finger...she wears a lot of rings," Liam said with a laugh.
Watch a clip of Liam's interview, below.