NEWS
Jennifer Lawrence's Friendship With Lenny Kravitz's Daughter: "Like Beavis & Butthead"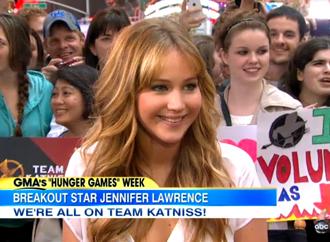 Article continues below advertisement
Jennifer admitted on Good Morning America that she had to learn to not call her co-star, Lenny Kravitz, Mr. Lenny Kravitz.
"He's one of my best friends' dad, so he's always been 'Mr. Lenny Kravitz' to me. Then I had to change when we got on-set, because he said it made him sound old."
Lenny plays Jennifer's stylist and friend, Cinna, in the film.
Jennifer said she went to Paris with Lenny's daughter, Zoe Kravitz, because he wanted them to get some culture — but the trip didn't exactly work out that way.