NEWS
Jennifer Lopez & Aerosmith to Perform Before 'American Idol' Finale Show?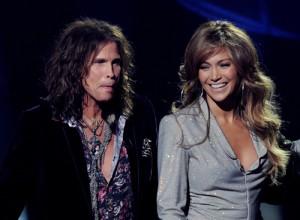 Article continues below advertisement
"It will probably be before that, actually," Nigel said.
Any more details to share?
"Actually, no, I told you that," he explained. "It's before then."
OK! NEWS: PAUL MCDONALD EXPLAINS PEARLY WHITES — "I WAS GOING TO BE A PEDIATRIC DENTIST"
And for those rumors that Steven and Aerosmith's guitarist's Joe Perry aren't on speaking terms?
"AEROFREAKSREJOICE ...JOE & I SENT SMOKE SIGNALS... SHOT THE S**T & CHEWED THE FAT FOR THE LAST YEAR... BUT JUST SMOKED THE PEACE PIPE," Tyler Tweeted. "FOR AN HOUR TODAY AND ARE ON OUR WAY TO ROCK'IN YOUR FKIN WORLDS THIS SUMMER BY LOCKING OUR SELVES AWAY SOMEWHERE W/ GUITARS & DRUMS...LUVST"
So hopefully that means what Nigel says will come true! Would you like to see J.Lo and Aerosmith perform on the show?