NEWS
Jennifer Lopez & Marc Anthony "Absolutely" Want to Have More Children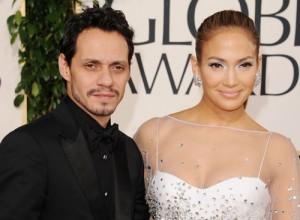 Marc Anthony and Jennifer Lopez have no problem talking openly about wanting to have more children together, but when you bring up the question of adoption... it's a different story!
OK! GALLERY: JENNIFER LOPEZ OVERWHELMS IN WHITE IN NYC
J. Lo and Marc chatted with reporters at the First Annual Unicef Women of Compassion Luncheon in Beverly Hills on Friday about babies, adoption and American Idol!
Jennifer said having her own children "absolutely" connects her more to the cause.
Article continues below advertisement
"Having children, as a mom, your whole life changes. And it's funny, I remember that first year speaking at Maria Shriver's Womens Conference here and me and my sister sat down, and she had also just given birth. Every child, in essence, it could be yours," Jennifer explained to OK!. "And it makes you care about the world in a different way and makes you want to do things and work toward helping any way you can, all the time. And Frida, really does make it a part of her life."
OK! GALLERY: JENNIFER LOPEZ GETS SERIOUSLY ABOUT RADIO AT SIRIUS
So, would she ever consider adopting?
"It's funny like I said you feel like all of the children in the world are kind of your kids," she shared, but Marc was not so quick to responding adding with a laugh, "Oh, I am not going to answer that."
"But, we would like to have more kids anyway," Jennifer explained.
"Yes, absolutely," Marc said. "I have to be careful what I say, though!"
Article continues below advertisement
"Yeah, next thing the headlines will be, 'We want to adopt!' J. Lo. explained.
"I'll tell you what I was thinking about this inside," Marc said while looking at Jennifer.
Hmm, wonder what he could have been thinking?
OK! GALLERY: JENNIFER LOPEZ SHOWS OFF HER KILLER LEGS IN NYC FOR VENUS RAZORS
And babies aren't all this couple are talking about in private, Jennifer also discusses American Idol with her hubby!
"When he's not there I have to come home and tell him everything that happens so when he is there, it's even better," Jennifer told reporters. "We have fun."
"We mostly agree," Marc adding on judging. "We have the shorthand... I'll be on the side during the auditions and she'll know what I am thinking."
"Then he'll say I said exactly what he was thinking," she added.
Great minds think alike!
Reporting By Gena Oppenheim